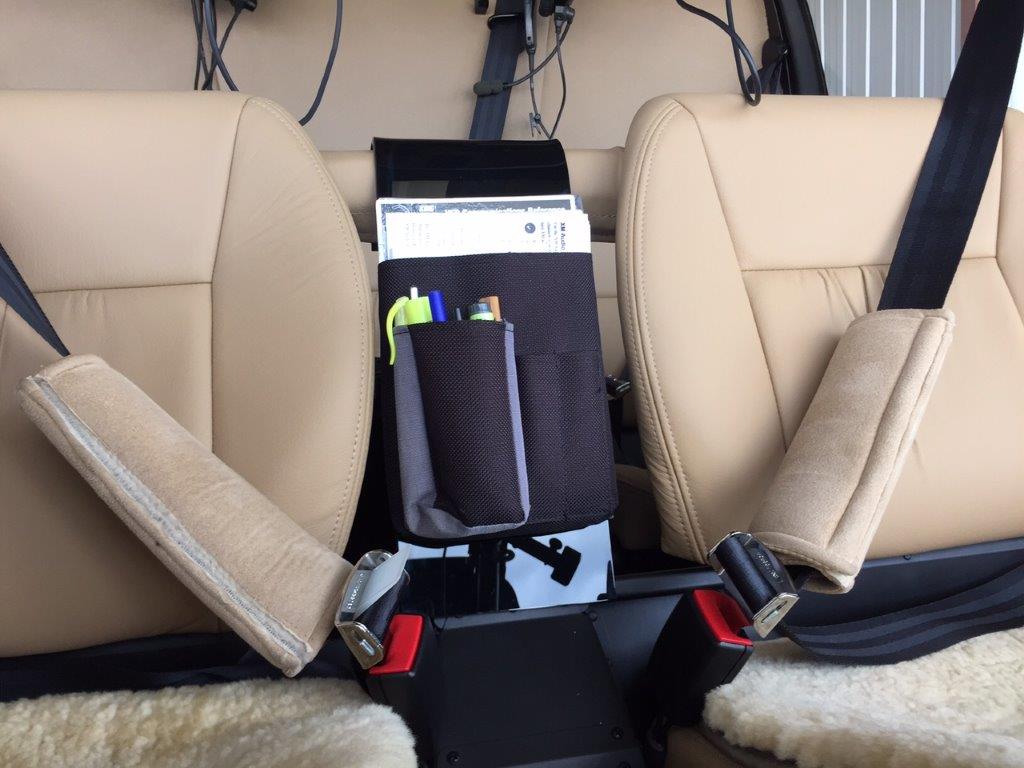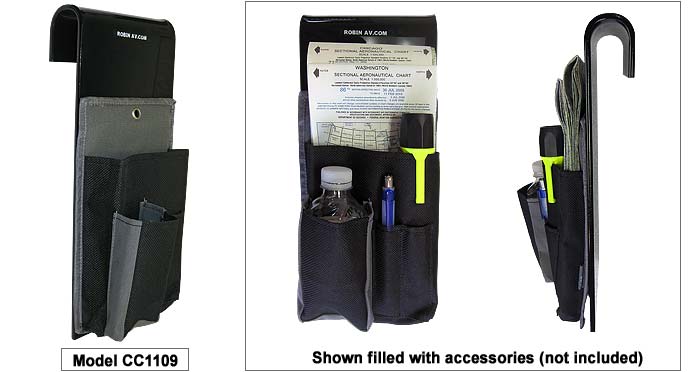 R44 COCKPIT CADDIE
COCKPIT CADDIE is the solution for storing charts, pens, eye glasses, water bottles or a flashlight….right at the pilots finger tips.
And the CADDIE reduces the chance of a loose chart or other object being sucked out of a door opening or fresh air vent and into the tail rotor.
NO TOOLS REQUIRED: The multi pocketed canvas pouch is mounted on a sturdy bracket that simply hangs on the horizontal cross bar between the R44's front seats. It does not interfere with the collective.
REMEMBER:"A TIDY COCKPIT IS A SAFER COCKPIT"
(We don't have a clue as to who coined that phrase but it has stood the test of time… so it must be true!!)
FINISH
Glossy black bracket. Grey and black pouch.
WEIGHT: Pouch and bracket: 1.4 lbs (0.63 kg)
DIMENSIONS
Mounting Bracket: 6in. wide x 13.5 in. long (153 mm wide x 343 mm long)
Canvas Pouch: 6 in. wide x 10 in. long (153 mm wide x 254 mm long)
WARRANTY
One year against defective parts and workmanship. Original manufactures warranty applies to "off the shelf" components.
Ordering Information
PART NUMBER
CC1109 Cockpit Caddie
PRICE
$78.00 USD plus Shipping
FOB
Warren, MI USA 48088
TERMS
We accept payment by credit card or check. Check in U.S. funds drawn on a U.S. Bank. Full payment is required for shipment to proceed.
HOW TO ORDER
Order now by Phone: 734-233-5114 or fill out the inquiry form to find out more about this product.
Cockpit Caddie Product Inquiry