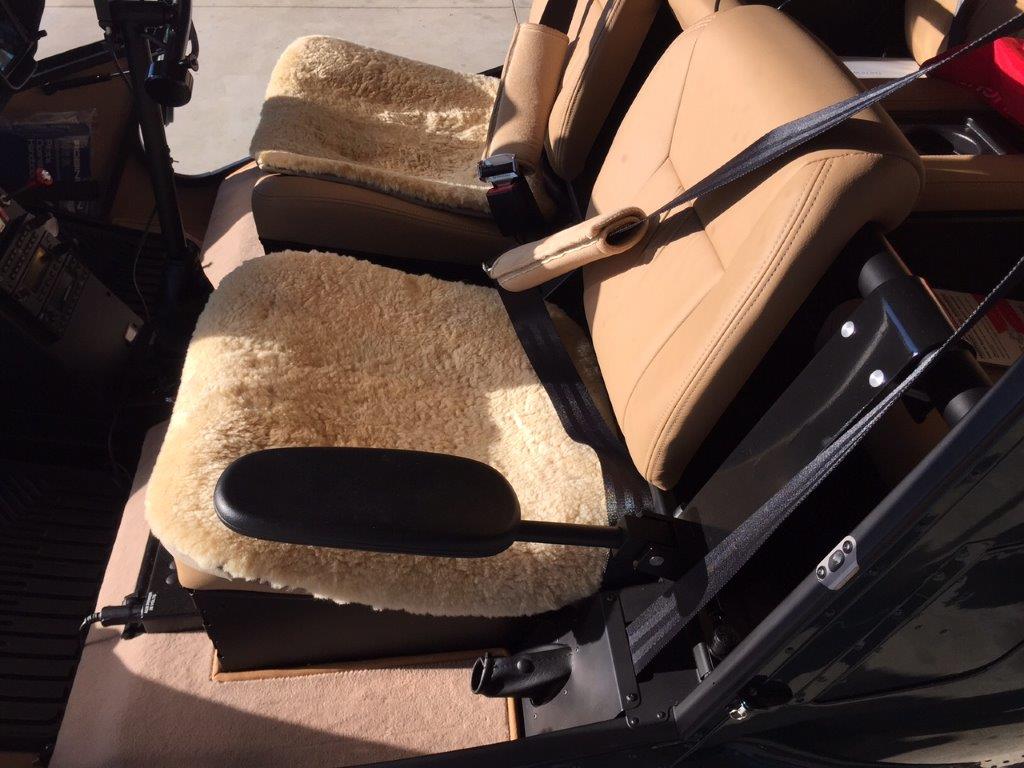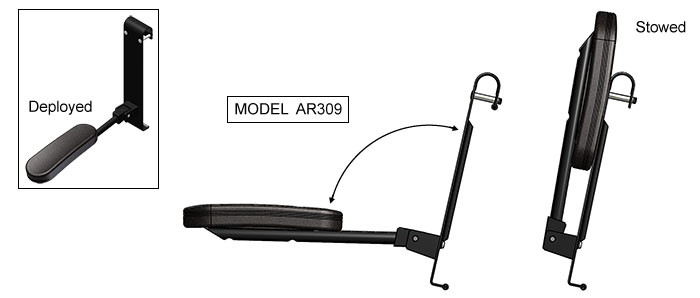 INSTALLATION AND REMOVAL
The curved end of the arm rest bracket is hooked over the front seat's round horizontal support bar… between the seat and the fuselage.
Dual steel pins secure the assembly firmly in place. Installation or removal can be accomplished in 60 seconds. NO TOOLS required.
R44 PASSENGER/PILOT ARM REST ASSEMBLY
The AR309 ARM REST is yet another in a series of Robin Aviation products offered to enhance an R44 occupant 's level of comfort and sense of security.
Front seat passengers DO NOT ENJOY sitting upright, unsupported with hands folded in their lap… especially when the aircraft is banking or in turbulence.
The sturdy AR309 arm rest solves that problem and makes flying in your R44 an even more pleasurable experience. And a pilot's day is less stressful when his or her right arm is resting in a more comfortable position.
The sturdy metal frame and linkage assembly is light weight and the arm pad is of comfortable foam with a slightly contoured surface ….similar to an office chair or airline seat.
The hinged arm assembly is flipped up an out of the way for ease of occupant ingress and egress. The complete arm rest assembly is removed or the arm stowed in the upright position when the co-pilots collective is installed.
FINISH
Aircraft black with a dark grey foam arm pad.
WEIGHT
3.6 lbs
DIMENSIONS
Mounting Bracket is 3 in. wide x 14 in. high.
Arm Rest Extends 16-1/4 in. from bracket.
Foam Arm Pad is 4-1/4 in. wide.
Stowed Arm Rest is 4-1/4 in. thick.
WARRANTY
One year against defective parts and workmanship. Original manufactures warranty applies to "off the shelf" components.
Ordering Information
PART NUMBER
AR309
PRICE
$245.00 each U.S. plus Shipping
$235.00 each for Qty 2 or more plus Shipping
FOB
Warren, MI USA 48088
TERMS
We accept payment by credit card or check. Check in U.S. funds drawn on a U.S. Bank. Full payment is required for shipment to proceed.
HOW TO ORDER
Order now by Phone: 734-233-5114 or fill out the inquiry form to find out more about this product.